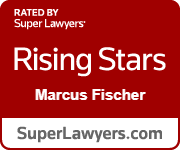 Marcus Fischer is a Patent Attorney, registered to practice in Ohio and before the U.S. Patent and Trademark Office. Marcus earned his Juris Doctor degree, magna cum laude, from The University of Akron School of Law. He also earned a Certificate in Intellectual Property Law for his extensive coursework in intellectual property. While at Akron, he served on Law Review for two years and participated in the Giles Sutherland Rich Intellectual Property Moot Court Competition, where he advanced to the national competition. Marcus has also been recognized as the top academic achiever in eight classes, including Introduction to Intellectual Property Law, Trademark Prosecution, Patent Prosecution, and International Patent Prosecution.
Marcus received a Master's Degree in Electrical Engineering with a focus on computer engineering. He also received a Bachelor of Science, cum laude, in environmental engineering from Miami University. While at Miami University, he served as Chair of the Student Technology Advising Committee and as a member of the President's Council on Technology. Marcus also participated in the design and deployment of university-wide computing services.
Marcus is a member of the American Intellectual Property Law Association (AIPLA), the Ohio State Bar Association, and the Cleveland Metropolitan Bar Association.
馬克思是美國專利律師,馬克思於俄亥俄州還有美國專利局取得執業資格,馬克思在艾克朗大學取得法律博士的學位也取得智慧財產權課程的相關證書,在艾克朗大學,他參與兩年的法律編輯也進一步參與智慧財產權模擬法庭的競爭。
馬克思在邁阿密大學取得電機碩士學位並專注於電腦科學的領域,他也在邁阿密大學取得環境工程的學士學位,在邁阿密大學時馬克思擔任科技諮詢委員會的主席,他也是美國智慧財產權協會以及俄亥俄州律師協會的成員。